offers three visual inspirations to create a room around. Today's inspiration was three different pieces of art created and sold by artists found on
Etsy
.
In the last challenge, I designed a "dream"
dining room
around a beautiful set of china. I went big and didn't worry about budget whatsoever. This time around, I used the artwork as a springboard to update my daughter Neve's bedroom, much more realistically. I focused on using the fixed elements already in her room and adding small updates inspired by the artwork below. She even helped me with this challenge a bit, making selections from a host of things I considered for the board.
Bird Art Community Tree
by
Cori Dantini
/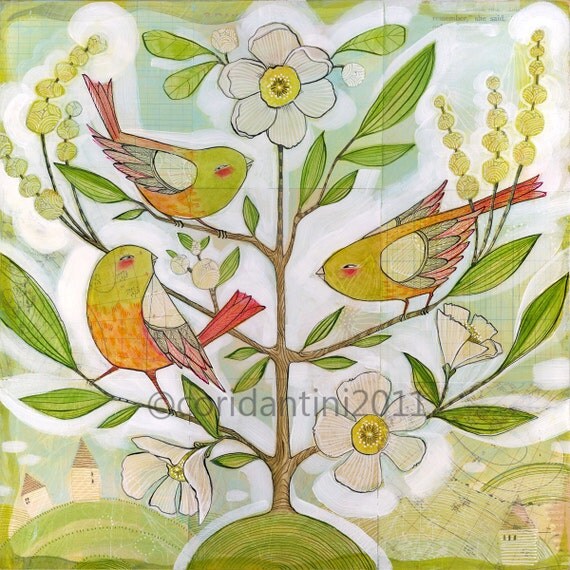 Here are the fixed items in Neve's room that I'll be working with:
And here are some ideas for updating the space:
2.I chose simple white Ikea Vivan curtains, embellished with a border using one of the two bolder fabrics to replace her little girl toile valances.
3. Antonina Vella wallpaper to give some subtle interest to a slanted wall that is difficult to hang anything on. Neve was adamant that it had to be blue.
4. A new bedside lamp from Target to grow with. Less baby, more big girl, but it still works for an almost six year old.
5. Neve spied this image that I had pinned and asked for a bed just like this. Currently she has no headboard, but I've seen ones similar to this image at a local second-hand furniture store for less than $50. I love the idea of giving new life to one with a vibrant color that ties into the palette. For minimal investment, I'm okay with having to change out the color or replace it when she's a little older.
6. We're blessed with two closets in Neve's room. Currently her toys are housed in one in an old toy bin. Shelves like these are on the agenda.
7.I pinned this piece of Etsy typography months ago for Neve. I love the quote and hope I can instill this message in both of my kids.
Realistically, I don't know when any of this will happen as we're in the midst of finishing our basement and updating our bathroom, but it's good to have a plan, and now I have a very doable one!
Have a great Monday.